Monthly Archives:
October 2012
I've got a treat for everyone today, with an interview with the fantastic Ink Babes. The Ink Babes are 3 talented women-Pat Hollett, Lisa Forget and Tammy Crosby-who put together the Bleeding Ink anthology –  60  dark tales by 40 authors – from short stories to poetry.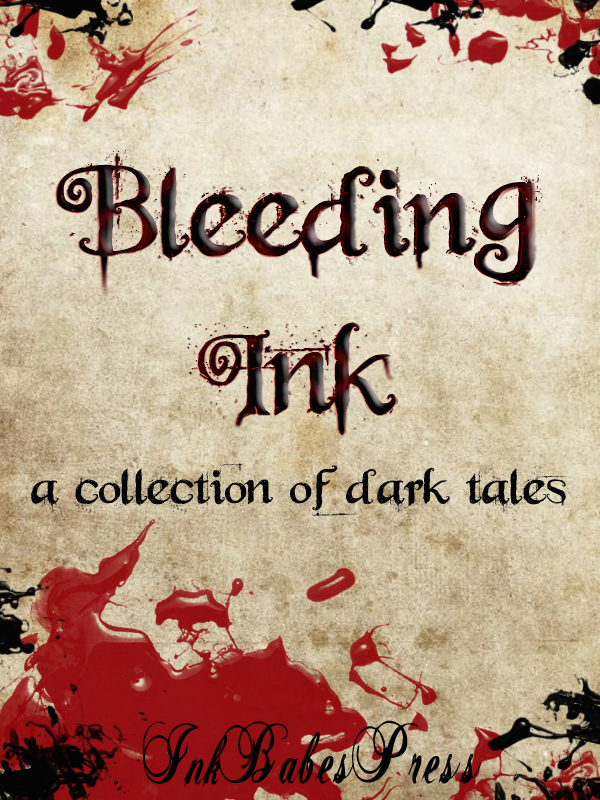 Here's a small excerpt:
Through The Eyes of Him – By Christian Riley
He walks these same streets of this city in which I live in—San Francisco. I know this, because I've recognized certain familiar features. Store fronts. Buses. Street names. And he's here now, in this day and age of which I also live. I know, because I read about the work he does in the San Francisco Chronicle. Or, I watch it on the evening news. And the perversion within this particular detail is that I don't really need to follow the news in order to learn about his work. I don't need to read about what he did the night before. And that's because, I've already witnessed it.
I see it glowing on my bookshelf now, in the spot I've made for it next to a wooden bowl; the mask of death I picked up at a yard sale last year. Rightfully so, I thought it'd make an excellent addition to the decorum I've got going on in this home of mine; a one bedroom studio right above Marley's Dark Roast Cafe.
It is made from what I think is cocobolo wood, with shades of brown, and hints of red. Although I'm no anthropologist, I believe this thing was crafted by some witch doctor from the jungles of South America. Or the plains of Africa. It's got that kind of look to it, you know, roughly hewn, tribal.
It's a mask for crying out loud, so of course I've worn it. I held it up to my face the first time I found it, looked through those gaping holes as if they were my own eyes. No big deal.
But then I noticed it was glowing red one evening, like it's doing now. And yes, I held it to my face on that night as well. And yes, I saw something much more than the confines of my apartment. I watched in lurid horror, as a nightmare unfolded in the streets of this city . . .
Him.
I don't know this man. Don't know his name, or where he lives, or what he does for a living. Hell, I don't even know what he looks like. But I know what he does when the day grows black, and the night crawls out from the sewer to bathe the citizens in the stench of decayed debauchery common to a beautiful city like this one.
I've seen how he stalks young women, barely-dressed prostitutes standing on corners, eyes scanning passing vehicles and walking patrons, searching for that next meal. He usually stands between two buildings, black trench coat, studying his victims. Yes, he kills these women. He's a murderer. A predator. A hunter of the weaker beings within our species.
But what does that make me?
Sometimes he gets bold with this hobby of his—killing more than one person in the same evening. On those nights, this mask glows fire red, like a smouldering ember. Warm to the touch, as I place it over my face, sit back on my couch, and then watch him jerk people around with his strong arms, gag, and bound them in the back of his car, rip at their clothes. After he strangles them, when their last breath comes to a complete gasp, he drags them out onto the street, or parking lot, and then buries a two-foot long piece of rebar into their back—the signature of his work.
I see it all.
There's plenty more where that came from.
And here's an interview with the lovely ladies, themselves:
The Ink Babes
 Tammy Crosby
Lisa Forget
Pat Hollett
1. So, why don't you tell us all a bit about yourself?
We're three women who sought a way to bring together wonderful writers, great stories, and package it into something dark and delicious.
2. What made you decide to self-publish?
So many things, but a big part of was that we wanted creative control over it, and the learning experience as a whole. An anthology seemed like a fun manageable project to tackle. Since it's so unique from anything we've seen so far, it would have been even harder to place with a traditional publisher. Not to mention we wouldn't have gotten to know so many amazing authors! J
3. Do you have a favourite book or author? What are they?
Well it's a given that we all like Kelley Armstrong, since we all met up as members of her OWG writing group. 😉
4. What do you do for fun when you're not writing?
(Pat) Having just bought a new home, I spend a lot of time unpacking and working on the house.
(Tammy) Well, when I'm not a full time working mom, I love to get out and play hockey once a week and possibly take the dog out for the occasional trail run when I have the energy for it.
5. Do you have any other projects in the pipeline?
Currently, we're all working on our own manuscripts which we put aside while working on the Bleeding Ink Project.
6. What has been your favourite part of this writing/publishing experience? The scariest?
Favourite part has to be working together. We get along so well, it's like working with best friends. We laugh together and agree on most things. We also challenge each other as well. The scariest? Same as it is for any author I suppose, will they like it? That's always the big fear.
7. Do you ever suffer from writer's block? If so, what do you do about it?
(Pat)I guess it happens. I just work on something else if it does. The ideas always seem to flow, if not for one story, then for another.
(Tammy) Since I have so little time to devote to writing I've never had a block. *knocks on head*
8. How did you come up with the title?
Tammy has always liked the quote "There is nothing to writing. All you do is sit down at a typewriter and bleed." By Ernest Hemingway. So Bleeding Ink just seemed to be a natural fit for our first work
9. Do you have any advice for other writers?
Keep putting those fingers on the keys. Never quit. You could be the worst writer on earth, but if it FILLS you up, heart and soul, then by all means, keep writing.
10 . Best and worst writing tip you've learned?
(Pat) Grab a hold of the reader and make them hang on for the ride has been the best writing tip I've learned.Can't really say there are any bad writing tips, just different opinions about how to write.
(Tammy) Best tip is to read your work aloud. It's amazing to me how you can 'hear' the pacing of the words when you read them aloud. Never had a 'bad' writing tip. Some work, some don't, but it's different for everyone.
11. Tell us about your cover. Where did the idea come from?
Tammy designed the cover. She's great with Photoshop and she's done many banners and icons for us writers and bloggers.
12.Do you have anything specific that you want to say to your readers?
Just that we really hope you enjoy the anthology. We really did our best to pack it full of a wide variety of pieces to the reading both short and thought provoking.
13. When did you first consider yourself a writer?
(Pat) I think when I first started writing. Anyone can be a writer. But, you strive to become an author. I believe that's what most writers hope to accomplish through their work.
(Tammy) When I wrote the first draft of my first manuscript. That was when I truly thought, I'm a writer. Good or bad…yet to be decided. 😉
14. What is the last book you read?
(Pat) Currently reading Game of Thrones.
(Tammy) Thirteen by Kelley Armstrong, are you seeing a pattern here? Lol
15. You can be any comic book superhero – Who would you be?
(Pat) Definitely Thor
(Tammy) Lara Croft. I want big boobs and bigger guns. 😛
16. If you could go back in time, what advice would you give to your 16-year-old self?
(Pat) Don't let other people hold you back from doing what you want to do. Listen to your inner guide, and do everything you dream of doing. (Tammy – yup that about sums it up! J )
17. If you found a time machine, where would you go, and when?  (What time period)
(Pat) Either back to the time of knights and castles in England, or ahead to see the future here in Canada.
(Tammy) – I'd stay put. For women there was never really a 'good' time to be one so I'll just stay right where I am and hope for the best.
18. What TV shows do you enjoy?
(Pat) Vampire Diaries, True Blood, Game of Thrones, Dallas.
(Tammy) – Mentalist, Vampire Diaries, Project Runway, and I'm really looking forward to Elementary starting soon.
19. Someone wrongs you. Do you get revenge or allow Karma to do it for you?
(Pat) like Karma biting people in the ass, but then again, Karma sometimes needs a little help… LOL!
(Tammy) Depends if it involves my kid or not. 😉
20. You get turned into a werewolf, who do you pee on first?
(Tammy) – Without a doubt, our new puppy Max. He's peed on pretty much everything I own, so it'd be only fair.
21. What was the last movie you went to see?
(Pat) The Hunger Games. (Tammy – yeah me too, I don't get out much.)
And that's the end of the interview. Thanks to the Ink Babes for taking part, and I hope you all enjoyed reading it as much as I did. If you want to learn more about The Ink Babes, you can go: